New camera bag
As you may have read in my previous post, I enjoyed a wonderful weekend as a photojournalist. Doing so, I learned the limits of my kit, especially my cheap long lens. A second inadequacy was in my camera bag; iPads are now a necessary part of any roving photographer's equipment and regular bags just don't have the space for the additional iPad kit. As you can see, there's not much room in a traditional camera bag for an iPad and a DSLR with a 250mm lens meaning two bags or spare lenses in your pockets. And just imagine what happens if it rains.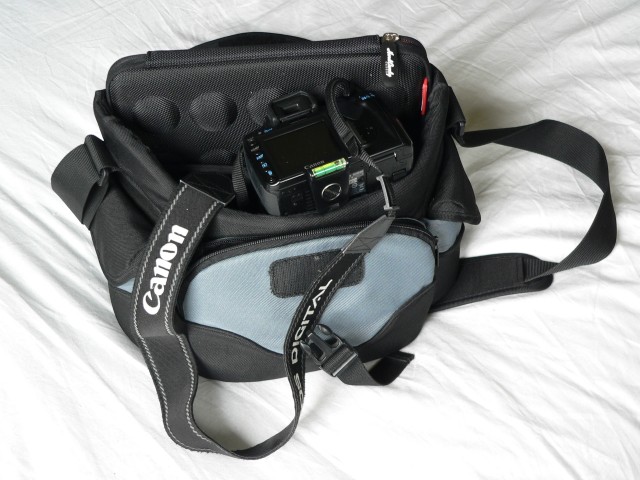 Important to me were the ability to hold a DSLR, an iPad and a big-ass lens I don't yet own. Oh, and all the peripherals need to go somewhere and it needs to keep stuff dry in a light shower and have a pocket for a bin bag in case the skies open. It'd be nice if it could also hold my cheap tripod and by backup camera, a Panasonic Lumix FZ20. As I suspect modern photographers need a camera bag that holds a laptop or iPad, I thought I'd share my findings. If you're not looking for a backpack, look elsewhere; I'm a great fan of backpacks for this sort of thing so that's the route I took.
After a small amount of research, and leaning on the large shoulders of Twitter, in particular @markds and @mindnumbing, I had a shortlist of three bags to take to eBay: The Naneu U60, the Lowepro Vertex 100 AW and possibly the stupidly named ThinkTank StreetWalker HardDrive. To cut a long story short, eBay had a LowePro Vertex on offer at a price I couldn't ignore and it arrived this morning. I'd probably be just as happy with any of the bags on my list, so don't assume that the others are in any way not as good. I got this one, so I'll tell you about it.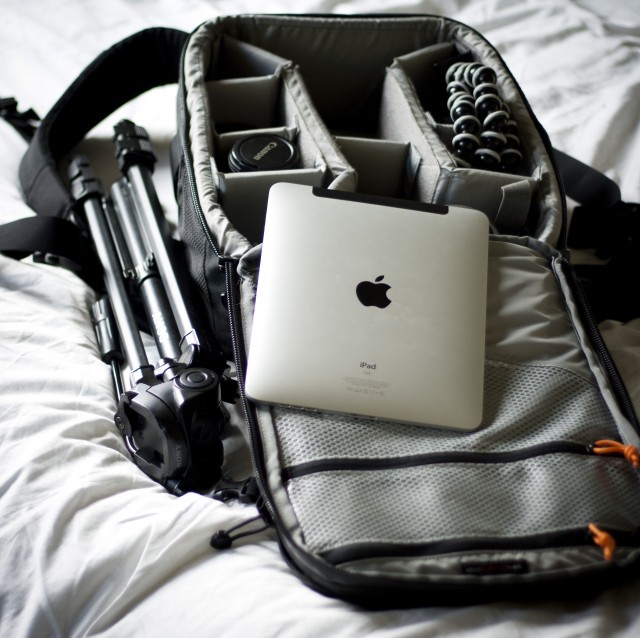 The LowePro Vertex 100 AW does everything on my list. It's got room for a laptop (My 13″ MacBook just fits, so it looks like 17″ users need to look elsewhere) or iPad with waterproof zips – the AW stands for All Weather – and there's room for two camera bodies and loads of lenses. This will do me for a while. Two pockets on the back hold all the cables and memory cards you could need and there's room for chargers and the like in the main section. There's a neat fitting on the back for a tripod, but this isn't usable when you activate my favourite feature; this bag has its own waterproof cover. I like the size as well, and this was one of the deciding factors for all three bags on my list.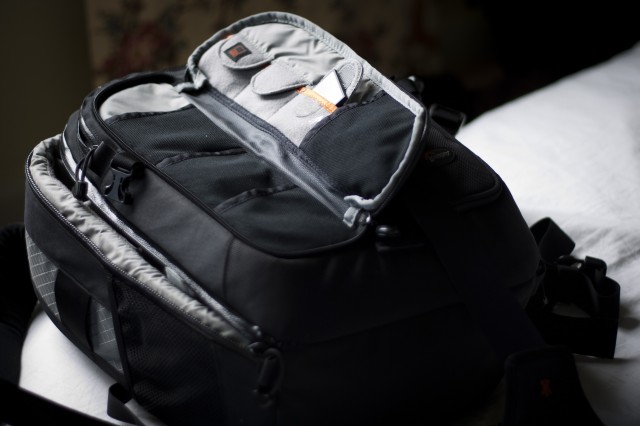 Do I recommend it? So far, without having taken it out on assignment (ooh, hark at me sounding like an adventure photographer) I can say yes, it's brilliant. I can't see it having any problems, the brand is well reviewed by people I trust, but only once I've done the Magny Cours round of World Superbikes, the reason for buying the bag, will I be able to definitively say. So far, though, I'm bloody impressed.