My weekend as a journalist
UPDATE: Picture of me on TV at the bottom of this post.
There are some things that, when offered, you have to say yes to. You know them when you see them and you know them when you think "how much would I regret it if I didn't do this?" I had one of those opportunities last weekend. I was asked to go and cover the World Superbikes race at Silverstone for MotoRaceReports, a blog I write for. I would get a full media pass and all I'd have to do was write a report, tweet about it and take some photos. Hell, yes.
Now, I've taken photos at Silverstone before and I've had paddock access, so this would be the same sort of deal, right?
Wrong. So very wrong.
As a fan, what happened was that I would be gifted with the best weekend of motorsports I'd ever had; I'd be plunged right into the heart of the World Superbikes world. As a photographer, I would have access to everywhere around the circuit, except the grid, and be driven to any spot of the track, even those closed to the public, by the media shuttle at my whim. As a reporter, I would be given access to the Media Centre where the myriad of displays show all manner of race data during qualifying and racing, just like the TV commentators have access to. In all, it was a fan's dream. I'd love to qualify that with caveats about how you miss the atmosphere, how you're surrounded by jaded, cynical jobsworth journalists and photographers who have seen it all, or to find some other negative aspect to cling to to balance out the excellence, but I'm afraid there was none of this. It was just excellence from beginning to end; helpful security, talkative journos, accomodating riders and teams, there was no one trying to tell you what you couldn't do apart from one lone airport security guy shouting at you to get off the helipad grass.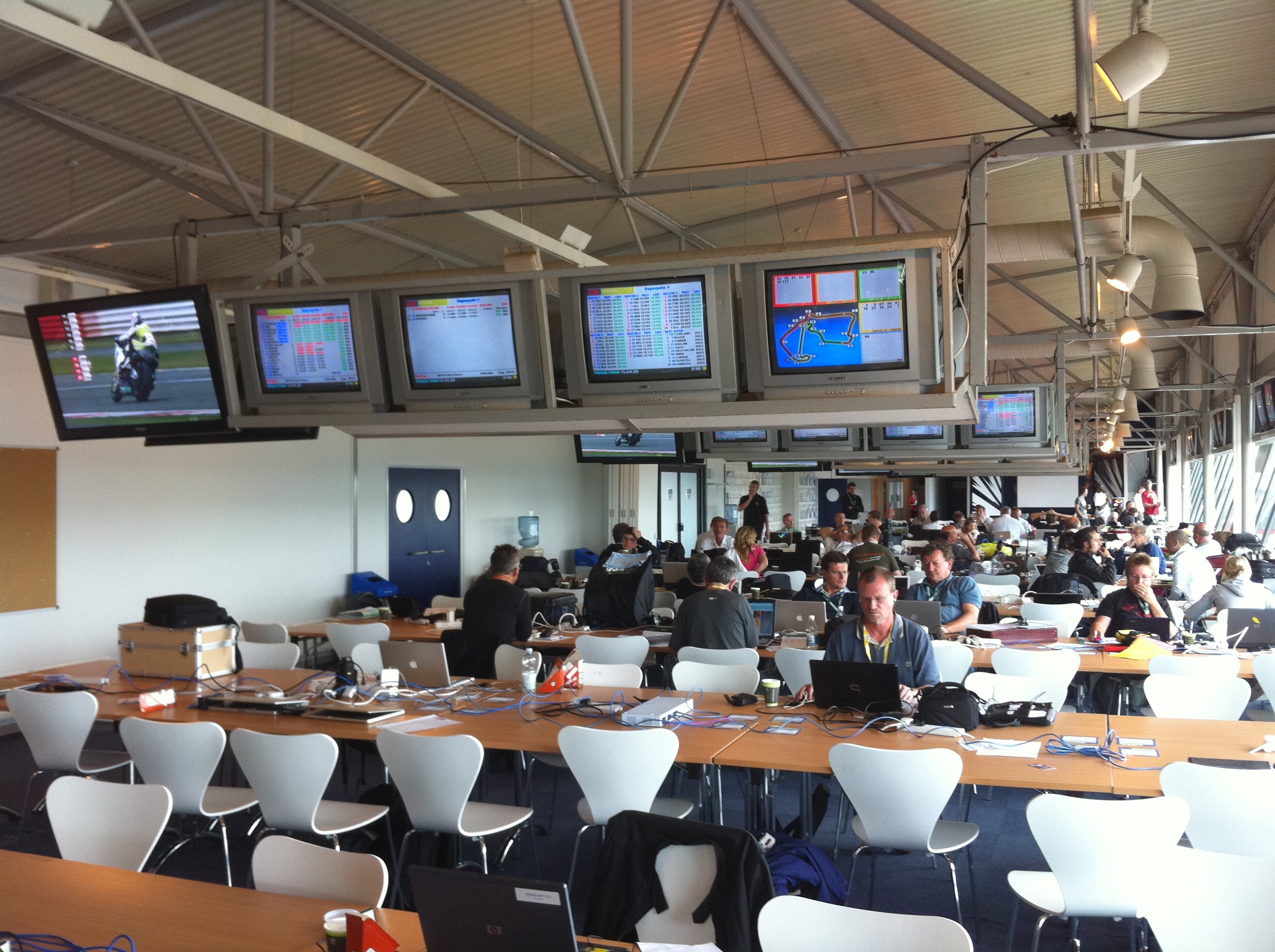 Thursday night, I had dinner with @weeyin13 (Jen), my fellow hack at MotoRaceReports, @mikeevstog, a photographer I'd met at the Silverstone MotoGP, and two young neophites looking forward to their first race weekend, @katie_86 and @supersoph23. plans were made, timings were agreed on and I was then dropped off at my hotel while they all went to their shared hotel. I couldn't share their hotel as there was a fire somewhere that meant all the rooms were taken by the time I tried to book a reservation. This didn't prove to be problematic, thankfully, and it helped us get organised and on the road each morning. On the Friday, it all started.
First stop, Media Accreditation for my pass. I didn't know what sort of pass I was down for, but when I saw it, my eye was drawn to the word Track; I'd be able to go to the dangerous places. I took a trip to the pit lane with Jen, but more on that in a bit. It turned out the trackside photography did nothing more than point out my long lens was magnificently underpowered for the task. I took up a spot inside Maggots, the first chicane on the track – a point the bikes would need to slow down making pictures easier, and shot a few action shots, getting more and more frustrated with f5.6 and ISO200. My MotoGP shots were easier from the grandstand, but even then I felt I was hitting the limits of my cheap equipment. Then I remembered, the MotoGP was sunny whereas this was overcast. I was right at the point my lens stopped being really usable thanks to the slightly lower amount of light. I managed a few passable shots, but felt I'd do better in pit lane, if they'd let me get close.
When we walked into pit lane on the Friday during practice, we were greeted with all the garages and bikes. It felt like a glorious display and I had the feeling that at any point someone would tell me I wasn't supposed to be there. Surely they'd want us out of the way once the teams started working, but no. The only times we didn't have access to the pit lane and the garage doors was during Superpole and the races. This was where I belonged. Sure, my cheap lenses and consumer DSLR were still not perfect, but their deficiencies would be a lot less obvious here. We were actually outside the garages where we could see all the stuff we only normally see on TV. I was able to get the sorts of photos a fan could only dream of.
Once I was bitten by the pit lane photography bug, I couldn't help myself. We even got up early on Sunday just so we could go to the warm up, in spite of the fact we probably had all the photos we could ever want. It was real and I was there. So many photos …
Saturday, I checked my assignment list from the Big Cheese at MotoRaceReports and there was one thing I was missing from his list: Brolly Dollies. Oh, it's a hard life, but if I had to force myself to take photos of beautiful girls, I'm sure I could bring myself to it. All the girls were consummate professionals, dropping into poses, smiling and laughing when a camera was pointed at them. This was obviously something they were all very familiar with and they were patient and forgiving models.
After more time in the pits, the final qualifying, Superpole, was spent in the media centre where we were able to see much more information than you get watching TV. You could see every rider on the track's time split by split in real time. You could see who was on a hot one, who was on a personal best and the order on the grid. It was obvious watching this that the weekend would be about Jonathan Rea and Cal Crutchlow. No one else was even close lap over lap. Sure, other riders would flirt with the top times, but those two would constantly hammer out time after time, lap after lap, all at top-flight pace, over and over. Looking back, it was obvious what Sunday would give us.
Sunday gave us some of the best racing of the year, in any class. Both World Superbike races were hard fought, but even they paled into comparison with the World Supersport race where Eugene Laverty and Kenan Sofuoglu gave us proper hammer-and-tongs stuff. Not even the early red flag from a nasty crash could dampen the fun of that one. But yes, both Superbike races started with Rea taking an early lead with Crutchlow right behind him. Both races ended with Crutchlow beating Rea to the flag. A different Brit in both races flew the flag for us local fans and the second race had British riders taking the top five spots. You can read more about it on MotoRaceReports.
However, Sunday after the races was one of the most wonderful experiences I had. I was able to get to Parc Fermé at the end of each race and see the top three return to their teams and families. I was able to congratulate Crutchlow in person, right after he won his first World Superbikes race. I was able to see the bikes up close and hear the conversations between the friendly bitter rivals. I even got my face on TV; friends tweeted me to tell me they saw me on Eurosport's coverage of Parc Fermé.
Yes, as a fan of motorcycle racing, this will be hard to beat. Let's hope I get a chance to try at Magny Cours in October. I'll rent a decent lens if I get to go.
* For those interested in what camera I used, the EXIF on Flickr will show you what lenses were used for each shot, but the kit was essentially a Canon EOS400D body with the following cheap Canon lenses: 18-55mm f3.5-5.6, 50mm f1.8, 55-250mm f3.5-f5.6. The SLR photos were all processed from Raw in Adobe Lightroom. Photos on the day were tweeted from a 3G iPad using the Camera Connection Kit and an iPhone 4.
UPDATE: Look, mum, I'm on the telly!