Paperless life – Have iPad, will travel
Recently, I had the good fortune to be invited by some friends to help them out at E3 in LA. As an inhabitant of Scotland, this would inevitably entail a plane ride across the Atlantic ocean, and this gave me an idea. I would try to get from the UK to LA with an absolute minimum of paperwork. Just my passport, iPhone 3GS and iPad 3G. How hard could it be?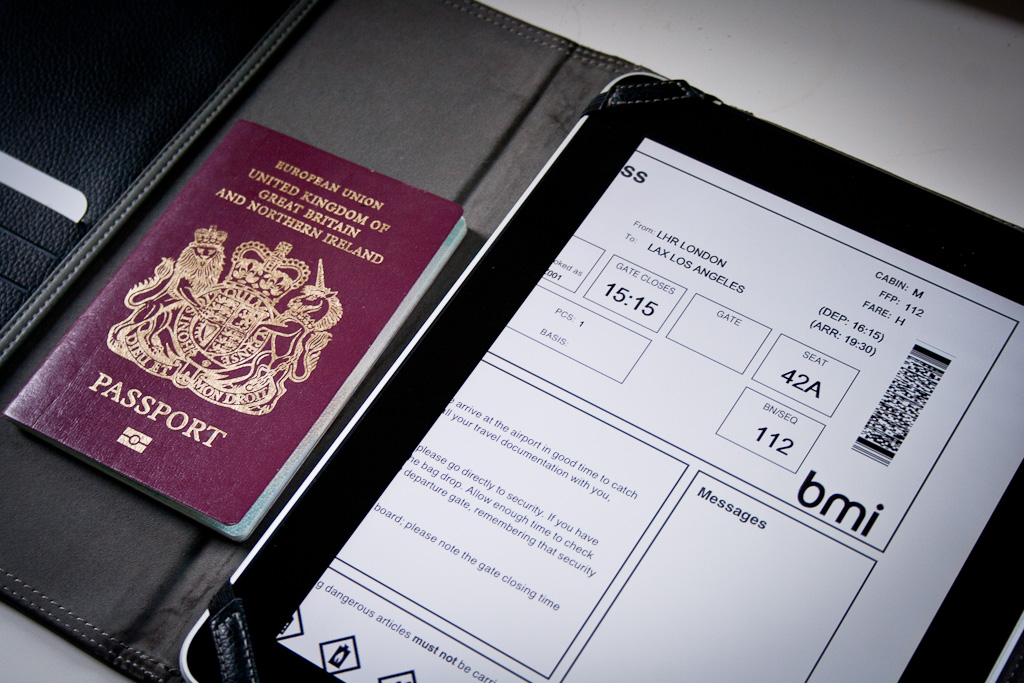 The Glasgow to London leg was, as could be expected, very easy. No bureaucratic nonsense or overly fastidious security operatives assuming I wanted to invade somewhere. The irony of this is that GLA is one of the few airports in recent times to actually be physically attacked by Islamic fundamentalist terrorists, whereby the local populace stuck the boot in and stated "Glasgow doesn't accept this. This is Glasgow; we'll set aboot ye." This isn't a normal city, in case you didn't already know this.
Arrival at London's famous Heathrow Airport was not without incident as we were led through the bowels of the airport by incompetent flight attendants, setting off security alarm after security alarm as we muddled our way through. Presenting an iPhone as a boarding card even after that was accepted as normal and I was allowed to pass through into the waiting area for my connection. Buying my Duty Free allocation was another step of the journey that would require a boarding pass, and this time I elected to use my iPad. The staff were a little perplexed, not knowing if this was an acceptable way of doing business, but when I enlarged the barcode with a pinch and held it under the scanner, they jumped back in amazement when the till went beep and told them my flight details. This was the first time any of the staff had seen anyone make a completely paperless transaction in their shop; the largest duty-free shop in the fifth busiest airport in the world. It won't be their last.
Again, using the iPad to get onto the plane was simplicity itself and there was still enough battery life left in the iPad to keep me entertained the entire flight to LA. Arriving in LA, I was required to fill in an immigration form, which was the first piece of paper I'd needed to handle the entire trip.
This trip was brought back to me today when I went to open a bank account with HSBC, a bank with only five branches in Scotland that gets great reports of their online paperless banking, for my new business and I did so by bringing all my documentation on my iPad, with my trusty passport for proof of who I was, and a letter from Barclaycard as proof of address, but even that was the wrong one and I used a PDF from my bank in the end. All this was handled through GoodReader, which enabled me to mail the bank's business manager the relevant docs during the meeting. Add this to the paperless accountant I've found and you can see my new company's philosophy.
Paperless is here; you just need to have the balls to try it.